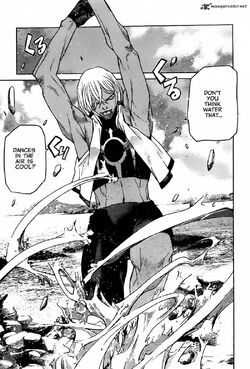 Water Boy is a Britannian Knightmare that specializes in underwater operations and possesses the ability to manipulate water.
Appearance
Edit
He has dark skin and wears a tight-fitting uniform.
Water Boy appears after Mesh is defeated. He takes the girls, Claire/Carla, Misuzu, Shiori, and C.C. captive via a giant water bubble. After engaging in a short fight with Renya and Andreas Weinberg, he leaves with his captives, getting on a nearby ship. On the ship, he mentions that he and Mesh are looking for something.
Renya and co. manage to track him down and engage him in battle once more. During the fight, he upon seeing Renya's curse, asks him if he has met Dash. Seeing Renya's confusion, he explains that Dash is his savior and his hope. Angi suddenly recalls that the day that he and Renya ran away, Dash was present, that he was the one who killed Renya's father.
Just when the fight seems to be going overwhelmingly in Water Boy's favor, he is impaled by an anchor, from Futaba's boat. When he launches a counterattack, Renya blocks it, but not before Water Boy notices the pendant/stone around Renya's neck. He exclaims, that he has found it.
After this, he links himself to his comrades in Britannia, preferring to sacrifice himself in order to relay the info that Renya holds.
He appears later, being held captive by the Knight of Rounds. After Renya's group clashes with them, he is seen on Renya's ship, unconscious. When Shiori is fatally wounded by the Knight of One, he appears and offers to make her a knightmare in order to save her life. After some deliberation by Renya and Weinberg, they agree to the offer.
His next major appearance is when Renya prepares to fight Dash even after he gave Dash the holy stone. He and Pavlova fight Renya instead, preferring to die in the place of Dash.
After Dash's death, he and the other knightmares are shown with signs of deterioration, now that their master is gone.
He tends to rate things on how wonderful they are. 
Is shown to be able to control blood, at least blood that is outside of the body. 
Community content is available under
CC-BY-SA
unless otherwise noted.