Mrs. Kōzuki is the mother of Kallen Kōzuki and Naoto Kōzuki.
Charcter Outline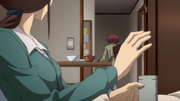 An Eleven who fell in love with a
Britannian
, of the name Stadtfeld, and who was also a nobleman. With him she had two kids, Kallen and Naoto Kōzuki. After a fight, she became a servant to the Stadtfeld household, in which she always tried to look after Kallen and Naoto. She also was sentenced 20 years to jail for using
Refrain
. She always tried to be with Kallen to protect her.
She isn't seen again until the final episode of the second season where she is shown to have been freed is living with Kallen in an apartment and has presumably overcome her Refrain addiction. She is seen drinking tea and waves goodbye to Kallen as she goes of to school.