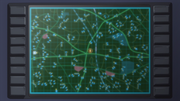 Identification friend or foe (IFF) is a system used primarily by Knightmare Frames and airships. It broadcasts a signal, encoded on a specific channel, that transmits information regarding location, direction and unit type, allowing for tacticians to actively see the battlefield. The system can be a double edged sword, as demonstrated by Lelouch, when the IFF information is used by an enemy in a captured unit. An IFF transponder can be removed, although the exact process is unknown.
For the real world see also Identification Friend or Foe.
Community content is available under
CC-BY-SA
unless otherwise noted.