Latest Community Updates
Blogs
In Nightmare of Nunnally, the Zero outfit is heavily armored and is manifested from Lelouch's Geass. The mask lacks the four spikes at the edges. He fights at the level of a Knightmare frame as well …
See more >
Did you know?
The TV anime series has been well received in Japan, selling over a million DVD and Blu-ray Disc volumes?
At the sixth annual Tokyo Anime Awards held at the 2007 Tokyo International Anime Fair, Code Geass won the best TV anime series award?
The second season also got the award of "Best Screenplay" in the 2009 Tokyo Anime Fair?
In noted Japanese anime magazine Animage's 29th Annual Anime Grand Prix, Code Geass won the most popular series award, with Lelouch Lamperouge also being chosen as the most popular male character and "Colors" being chosen as the most popular song?
Code Geass won the award for Best TV Animation at the twelfth Animation Kobe event, held annually in Kobe, Hyōgo Prefecture, with R2 taking the award in the following year?
In the 2009, Seiun Award, Code Geass R2 was a nominee in the category "Best Media Award"?
External Links
The wiki that anyone can edit, devoted to
Code Geass
, one of the most top rated and popular anime series in the U.S. and Japan, by the author
Ichirō Ōkouchi
! Feel free to make edits on the Code Geass database and help us
expand our knowledge
, or even just peruse and find information you may not have known before! Happy editing!
---
WARNING: This wiki contains a plethora of spoilers related to the Code Geass series. This is your only warning, read at your own risk!
---
Synopsis

Prior to the start of the show, the Eleventh Prince,
Lelouch vi Britannia
and his sister, Princess
Nunnally vi Britannia
lived with their strict father, the Emperor, and caring
mother
in the capital city of the
Holy Britannian Empire
,
Pendragon
. When Lelouch was ten, and Nunnally was six, their mother was shot to death. Ultimately, Nunnally was caught in the crossfire and could no longer walk, and was blinded from trauma of seeing her mother murdered. Lelouch became angry that his father did nothing to solve the murder and renounced his anointment to the throne, and he and his sister were thereof placed in the care of the
Kururugi shrine
, in
Japan
. In this time
Suzaku Kururugi
, became friends with Lelouch, but they were separated from each other because of the war, which ended Japan's existence in 2010 in the
given calendar
. The area's name became "Area 11" as a mocking gesture to the month long defeat of the nation. Later they were taken in by the
Ashford Academy
, run by the Ashford Foundation of which their mother was a test pilot for. They were given a maid,
Sayoko Shinozaki
, to assist with the care of Nunnally, and they lived in hiding for years. Lelouch resolves to pursue a better world for Nunnally. He also seeks to discover the true reason for his mother's death, as she was murdered in the Aries Imperial Palace, a place terrorists would be unlikely to penetrate successfully without being noticed, if at all.
Read more »
Featured Character
Shirley Fenette (シャーリー・フェネット, Shārī Fenetto), 17 years old (18 at R2), is a secondary protagonist in the Code Geass series. Shirley is awarded 19th place in the 29th Anime Grand Prix for Favorite Female Character. She is voiced by Fumiko Orikasa (Japanese) and by Amy Kincaid (English).
Shirley is a cheery and upbeat student at Ashford Academy and a member of its student council. She is also in the school's swimming club. Shirley goes out of her way to make others feel accepted, as she is the first student to try to approach Suzaku Kururugi after his transfer into the school.
She is infatuated with Lelouch, and finds it difficult to get his attention. She is described as a girl who "fishes for attention" by Mao. Although not particularly clingy, she tends to be irked when seeing Lelouch with other girls or when Lelouch suddenly hangs up the phone on her from time to time. Read more »
Featured Knightmare Frame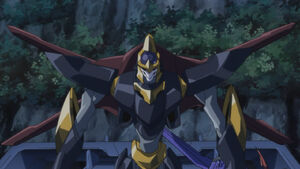 The 'Shinkirō' (蜃気楼 Shinkirō) is an Eighth Generation Transformable Knightmare Frame constructed for Zero's (Lelouch vi Britannia's) personal use. It possesses an integrated Air Glide System for flight and can transform into a submarine/jet fighter to move underwater and/or fly, which Lelouch uses to travel to and from Japan undetected. Its Armour is primarily black and gold, and it has several unusual physical features. Its feet are not round, instead consisting of eight large toes, and its head has four eyes. Its cockpit is also much wider. In addition to the standard control yoke system, the Shinkirō has keyboard-based controls similar to those used on the Gawain.
The Shinkirō possesses an Absolute Defense System (絶対守護領域, Zettai Shugo Ryōiki) system which uses an array of hexagonal energy shields that can be projected over any part of the Knightmare. Its Druid System, adapted from the Gawain, plots the trajectories of incoming projectiles and shifts the shields accordingly, giving the Shinkirō the highest defensive power of any Knightmare Frame. All these are controlled by the Druid system and the keyboard-based controls. The system requires incredibly complex calculations to form effective barriers, such that it takes an intellect on the level of Lelouch to use the system to its full potential. When Rolo Lamperouge attempts to use it, he is only able to erect a meagre defense with a number of weak spots. At its full potential, the Absolute Defense System can block a sustained point-blank blast from the Mordred's Stark Hadron Cannon, albeit at the cost of much of its power reserves.Read more »
Maintenance
How are we Doing? Code Geass Wiki has made many improvements since its creation, but we still have a long way to go. That's why we need YOU to tell us how we're doing. We want to make Code Geass Wiki better for you and others who visit. This is the place for you to give us some advice and let us know what you think!
---
We're being flooded with Stub Articles that need putting into more depth! Don't be shy, get in there. Earn yourself some edits by expanding these pages!
---
WE NEED YOUR HELP! Code Geass Wiki has a large amount of files and images, with many of them that are duplicate, unlicensed, poorly named, and uploaded with poor quality. We are currently running an Image Project that aims to add and improve the images for Wiki articles. This project is lead by Lelouch Di Britannia (talk). In the Image Project we have a list of roles that are either vacant or filled. If you are interested, please claim a role by putting your name and *incomplete* to begin work on it. For more information, visit our Image Project.
---
Nearly all Code Geass Articles from the Original Series are in need of URGENT HELP! If you want to seriously contribute to the wiki then you should consider joining the Episode Summary Unit! This project provides plenty of opportunity to help the wiki grow in a very significant way.The project is lead by J two (talk).
---
If you are interested in helping out with Templates, you can find a list of useful templates on Category:Templates, some of which are documented on the Templates Project Page.
---
Check out the Community Portal to see what the community is working on, to give feedback or just to say hi. You can also head on over to the Forums and coordinate with the community on editing, projects, and more.
---
To write a New Article, just enter the article title in the box below:
If you would like to become an affiliate of the Code Geass Wiki, Contact Me.
Fall Season 2022 Anime Wikis

TV Anime
TV (Multiseason)
ONA
OVA
Specials
Film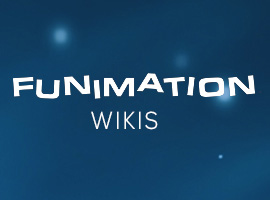 ---