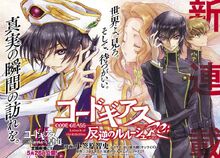 Code Geass: Lelouch of the Rebellion Re; is a manga set during the time when Lelouch becomes Emperor.
It is also considered to be a definitive edition to the series, as well as following events closer to the tv series, like of moments of Mao had existed which the 1st Recap movie removed events related to him. As well as having that Shirley had still died.
Though it does seems to have certain events different, like for that of the events of the Audio Drama, Stage 0.543: The End of Summer Joy, had not happened.
However, it showed a flashback of C.C.'s of her past with Renya from the Renya of the Darkness manga which was confirmed to be a prequel to the tv series.