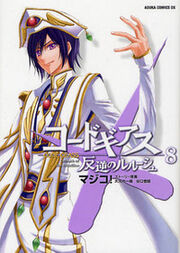 Code Geass: Lelouch of the Rebellion is the first four of the manga series have been licensed for an English language release in North America by Bandai Entertainment. Written by Majiko~!, the series originally serialized Monthly Asuka. Its chapters were collected in eight tankōbon volumes released from December 26, 2006 to March 26, 2010. Bandai's English adaptation of the series was published from July 29, 2008 to February 15, 2011.
Focusing on the protagonist of the series, Lelouch vi Britannia, the manga generally follows the anime's basic storyline with a few differences in terms of events and characters involved. Notably, there are no Knightmare Frames in the manga.
Plot Overview
The Holy Britannian Empire has invaded Japan, now referred to as Area 11, and its people have become the elevens. An exiled Britannian prince who was living in Japan at the time, Lelouch, vowed to his Japanese friend, Suzaku, that he would destroy Britannia. Years later, Lelouch is in high school, but regularly skips out of school to go play chess and gambles.
One day, he stumbles on Japanese terrorists who have stolen a military secret and is caught by a member of the Britannian task force sent after them, who is revealed to be Suzaku. As the rest of the squad arrives, Suzaku is shot for disobeying orders, while the military secret, a young girl, named C.C., gives Lelouch the Geass ability to make anyone obey any order. He takes command of the terrorists and leads them to crush the approaching Britannian forces. Lelouch becomes the masked hero, Zero, fighting against his friend, Suzaku, to lead the rebellion to defeat Britannia.
References