'Code Geass: Lelouch of the Re;surrection' (コードギアス 復活のルルーシュ Kōdo Giasu: Fukkatsu no Rurūshu) is a 2019 anime film directed by Gorō Taniguchi and animated by Sunrise.[1] Unlike the previous three Code Geass movies, it is an entirely new story taking place one full year after Lelouch vi Britannia's "Zero Requiem" plan.
Summary
It is the second year of the Kowa Period.
The world has unified around the reorganize United Federation of Nations and has enjoyed days of continuing peace.
But now, that peace suddenly comes to an end. Suzaku, while travelling as the masked man "Zero" accompanying Nunnally on her visit to the refugee camp, is defeated by a mysterious Knightmare Frame, and the two of them are taken away.
Following secret orders from Schneizel, Kallen, Lloyd and Sayoko infiltrate Zilkistan, the Land of Warriors, where they are attacked by a mysterious Geass user.
There in Zilkhstan is a person named C.C., known to the assailants as the "former master."
In the indomitable kingdom which once conquered even the great army of the Holy Britannian Empire, what do the people desire? Hope, or despair?
The people of Zilkhstan Palace certainly know of Geass. What are they—and C.C.—planning?
Plot
One year after Zero Requiem, the world is at peace after Lelouch's sacrifice. But, when acting as an honorable member of the United Federation of Nations, Nunnally vi Britannia and Zero (Suzaku Kururugi) are taken hostage by Shalio, the military leader of the Kingdom of Zilkhistan, led by his sister the religious leader of Zilkhistan, Shamna.
Meanwhile, C.C and Lelouch vi Britannia's mindless body are wandering throughout the region, in search of a gate to C's World to retrieve Lelouch's soul. Lelouch's body has been in this state ever since C.C. resurrected his corpse through reconstruction, replacing damaged body parts after Shirley brought Lelouch's corpse to Jeremiah's place. In this mindless state, Lelouch lives his life without his memories and is completely reliant on C.C. for his well being.
As C.C. and Lelouch hide out in a village on their way to a temple containing a thought elevator, Kallen Kōzuki, Lloyd Asplund, and Sayoko Shinozaki reunite with them, on the run from Zilkhistan forces as they had infiltrated Zilkhistan believing them to be prime suspects in Nunnally's kidnapping. After successfully pushing back the Zilkhistan forces pursuing them, Lelouch is discovered by the group, and they vow to help C.C. get to the thought elevator to help Lelouch. After infiltrating the temple that houses the thought elevator, Lelouch gains access to the collective unconscious, regaining his memories. In an effort to save Kallen from Zilkhistan forces who had been defending the group, they discover and save both Kallen and Suzaku, who had been held captive and tortured at the temple. After a confrontation that leads to Suzaku assaulting Lelouch in anger, the group escapes from the temple, destroying the thought elevator after blowing up the temple with sakuradite.
Realizing that saving Nunnally from Zilkhistan would be impossible with his current team, Lelouch donns the name of Zero once more, to lure his nearby half-sister Cornelia li Britannia into joining forces. Initially apprehensive, Cornelia agrees, leading to Jeremiah Gottwald, Anya Alstreim, Guilford, Cécile Croomy, Nina Einstein, Kaname Ohgi, and Tamaki to join the group. Deciding to stay the night in the village Cornelia was lured to, they regroup and make plans to invade the capital of Zilkhistan to retrieve Nunnally. During this moment of downtime, Suzaku pointing out a file from the flash drive Ohgi had given Lelouch from Kaguya Sumeragi that she had made for Lelouch, "In case he came back". The file contains the wedding party of Kaname Ohgi and Villetta Nu, leading for Suzaku to remark that he realized, "life without you (Lelouch) was uninteresting and lonely." and Lelouch and Suzaku reconcile.
Back in Zilkhistan, Shamna experiments with Nunnally in the collective unconsciousness, using a self-made thought elevator to try and create a world in which her kingdom can reign supreme. Zero Requiem, while creating a moment of peace, had a negative impact on Zilkhistan's economy, a weapon-export heavy nation. Shamna cannot do the feat alone, however, and claim's Nunnally's thought waves are similar to that of Charles, and therefore, easier to accomplish with her. Though she has Nunnally in her possession, Shamna still cannot gain the power she desires, gradually upping the intensity of her trials with no concern to Nunnally, saying she has no problem if the girl dies through her endeavour.
After creating a plan to rescue Nunnally, Lelouch and Co. successfully infiltrate Zilkhistan defeating their forces. In a confrontation with Shamna, Lelouch kills Shamna which causes her Geass to activate. Able to go back in time 6 hours at the time of her death, Shamna warns her army of Lelouch's impending attack, causing a different outcome which inevitably leads to her death again. Aware that something off is occurring due to C.C.'s immunity to Geass, Lelouch uses different methods each time he invades Zilkhistan, trying to narrow down what exactly is Shamna's Geass. Despite the many plans, the common outcome is that Suzaku and Shalio are fighting each other, Sayako, Lloyd, Nina, and Cecile are pinned down from enemy forces with Cecile shot, and Kallen is fighting with the leader of the formerly destroyed temple. Left with two options that could be Shamna's Geass, Lelouch takes a gamble to defeat Shamna, claiming that the two possess the same Geass. Confused, Shamna falls for Lelouch's claim and is forcefully put to sleep using Lelouch's Geass, breaking the chain of time jumps.
Recovering Nunnally, Lelouch and C.C. soon realize that Nunnally's consciousness is lost in the collective unconsciousness due to Shamna's experiments. With C.C. as a guide, they use Shamna's thought elevator to enter the collective unconsciousness to retrieve Nunnally. Lelouch and C.C. part ways with Lelouch to retrieve Nunnally, and C.C. to confront Shamna, who has been transported there forcibly due to the forced sleep Lelouch had put on her. Lelouch and C.C. successfully save Nunnally, and Shamna is killed completely after her brother Shalio is killed by Suzaku in the conflict of invading Zilkhistan, having nothing to tie her to the world.
After everything is settled, Nunnally begs Lelouch to stay with her and live out his life by her side. Lelouch turns down her request, however, deciding to instead live his life by C.C.'s side, exploring the world under the pseudonym he created, L.L., mimicking C.C.'s name as a way of proposing to her. Suzaku continues with his role of Zero, and Kallen rejoins the Black Knights.
Production
Announcement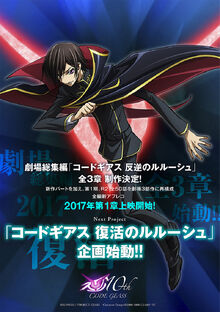 On October 8th, 2016, ten years since the anime's first television screening, Sunrise announced via a celebratory 10th Anniversary website that a special event titled "Code Geass: Lelouch of the Rebellion: Anniversary of a Miracle" was to be held in Maihama Amphitheatre in Chiba Prefecture on November 27 that same year.[2][3] Select fans of the franchise were given invitations to the event which contained a secret code that hinted at the "Rebirth of the Demon".[4]
At the event itself, it was announced that the series would get a new instalment which is set to take place several years after the events of the second season with Lelouch being the main character. A promotional video for the anime featuring characters such as C.C., Suzaku Kururugi, Jeremiah Gottwald, Cornelia li Britannia and Kallen Kōzuki was also screened after a stage appearance of director Gorō Taniguchi, screenwriter Ichirō Ōkouchi and voice actors Jun Fukuyama (Lelouch vi Britannia), Takahiro Sakurai (Suzaku Kururugi), Yukana Nogami (C.C.), Ami Koshimizu (Kallen Kōzuki) and Ken Narita (Jeremiah Gottwald) as well as a performance by ALI PROJECT and Hitomi Kuroishi. The proceedings of the event will be streamed by Bandai's Anime Channel service on December 23, 2016. The DVD and Blu-ray Disc release of the anniversary event will be on April 21, 2017, priced at 5800 JPY and 6800 JPY respectively. It will include a 2-hour digest video of the event's stage performance. As bonuses, it will include a poster by Takahiro Kimura, a postcard collection by Kimura and RICCA, a booklet, and 10-minutes worth of bonus video content, these being the picture drama that debuted at the event, a new short titled 'Resurrection! Miracle of Baba Theater' (復活!キセキのBABA劇場 Fukkatsu! Kiseki no Baba Gekijō)​​​​​, and the promotional video that announced the new project. A three-part film series was announced alongside the third instalment. It will recap the entirety of the first and second season of the main series with rerecorded voice acting and new scenes. The first film opened in 2017. [5][6][7]
On August 3rd, 2018, a short PV was released and it was announced that the movie would debut in February 2019.
On October 4th, 2018, a second short PV was released revealing the movie would debut on February 9th 2019.
On December 1st, 2018, 2 more trailers were released: https://www.youtube.com/watch?v=FoBvQHf7SMo and https://www.youtube.com/watch?v=Euj8XSLin0c Funimation added English subs to the longer of the two trailers: https://www.youtube.com/watch?v=TeiBsQkdUMM
During the anniversary event on December 26th 2018, the official twitter account of the movie confirmed that Lelouch would indeed be part of the movie, dispelling the fears of some fans that Lelouch wouldn't appear despite his name being in the title.
Gallery
Staff
Director: Goro Taniguchi
Script: Ichiro Okouchi
Original Character Design: CLAMP
Character Design: Takahiro Kimura
Original Knightmare Frame Design Concept: Akira Yasuda
Knightmare Frame Design: Eiji Nakada
Mechanical Design/ Concept Design: Kenji Teraoka
Main Animator: Takahiro Kimura, Yuriko Chiba, Eiji Nakada, Seiichi Nakatani
Art Director: Yoshinori Hishinuma
Colour Setting: Akiko Shibata
Director of Photography: Hiroyuki Chiba
Editing: Seiji Morita
Sound Director: Motoi Izawa, Yasuo Uragami
Music: Kotaro Nakagawa
Distribution: Showgate
Production: Sunrise, Code Geass Production Committee
Voice Actors/Actresses
Jun Fukuyama/Johnny Yong Bosch: Lelouch vi Britannia/Zero
Takahiro Sakurai/Yuri Lowenthal: Suzaku Kururugi/Zero
Yukana/Kate Higgins: C.C
Kaori Nazuka/Rebecca Forstadt: Nunnally vi Britannia
Ami Koshimizu/Karen Strassman: Kallen Kōzuki
Ayumu Murase/Jared Gilmore: Shalio
Keiko Toda/Elizabeth Maxwell: Shamna
Nobunaga Shimazaki/Rich Sommer: Shesthaal Forgnar
Akio Otsuka/Patrick Seitz: Volvona Forgnar
Kenjiro Tsuda/Gabe Kunda: Swaile Qujappat
Wataru Takagi/Christopher R Sabat: Belq Batoum Bitool
Junko Minagawa/Mary Elizabeth McGlynn: Cornelia li Britannia
Tetsu Shiratori/Liam O'Brien: Lloyd Asplund
Kikuko Inoue/Deborah Sale Butler: Cécile Croomy
Mitsuaki Madono/Kirk Thornton: Kaname Ohgi
Fumiko Orikasa/Amy Kincaid: Shirley Fenette
Nobuyuki Hiyama/Christopher Bevins: Shinichirō Tamaki
Yūko Gotō/Stephanie Sheh: Anya Alstreim
Satomi Arai/Kim Mai Guest: Sayoko Shinozaki
Saeko Chiba/Kim Mai Guest: Nina Einstein
Ken Narita/Crispin Freeman: Jeremiah Gottwald
Tracklist
Release Date: 02/13/2019
Specifications: 2 CD Set
Catalog Number: VTZL-153
≪Content≫
【Disc 1】

01. Peace for a while
02. Turnover
03. Proud nation
04. Surprise attack
05. Red warrior
06. Kaleidoscope
07. Holy priest
08. Chariot
09. Invasion
10. Steep caving
11. Stairway to the C
12. Outrage
13. Promised ruin
14. Lelouch of the resurrection
15. Rough welcome
16. The general
17. Prepared to be shot
18. Princess of justice
19. Leave nothing to be desired
20. 美しき獣たちの為の
21. Some hours ago
22. Fixing the world
23. Ideal warrior
24. Sacrifice
25. Her wish
26. A heart not giving up
27. Alternative power
28. Deceived god
29. The C
30. Which is the best warrior?
31. Peace you made
32. ゼロこそ我等が希望
33. 今はここに
34. 螺旋のピース
35. The Moon
【Disc 2】

01. Dukes of the knights
02. Blue mind
03. Gloomy
04. Shady
05. Encounter
06. Trickster
07. I will guard you
08. Small garden
09. Philanthropic
10. Magic
11. Astray
12. Feeling of astrocity
13. Betrayal
14. School life
15. Ridiculous world
16. Conspiracy
17. Outbreak
18. Corpses
19. I can not do my best
20. Premonition
21. Run away
22. Disappearance
23. Setback
24. Beyond humanity
25. Raiders
26. Miscarriage
27. Recollect myself
28. False brother
29. Execution place
30. Before the world
31. Real feeling
32. From the graduation album
33. How about you?
34. Forbidden City
35. Air raid
36. Passing each other
37. Stargazer
38. Sublime
39. In addition
40. Fascination
41. Coup d'etat
42. Little princess
43. Decryption
44. Assassination
45. The other 0
Trailer
External Links
Official Site (Japanese)
Code Geass 10th Project Official Site (Japanese)
References