'Code Geass: Akito the Exiled' (コードギアス 亡国のアキト Kōdo Giasu Bōkoku no Akito) is a theatrical OVA. It was officially announced in the bonus materials of Code Geass: The Miraculous Birthday. The new theatrical OVA is directed by Kazuki Akane (of Vision of Escaflowne and Noein: Mou Hitori no Kimi e fame) and once again features original character designs by CLAMP. It is a side-story that occurs between seasons one and two of Code Geass.
Overview
The side story takes place in 2017 a.t.b., between the rise of the "Black Knights" organization and the return of the supposedly "dead" Zero. The setting is in Europe, where the Europia United (E.U.) allied nations are being invaded by the overwhelming forces of the Holy Britannian Empire. On the verge of defeat, the E.U. army forms a special unit known as "W-0″, of which a young pilot named Akito Hyuga is a member. Leila Malcal , a former Britannian Aristocrat comes to the Europia United for aid, commanding the Wyvern Knightmare corps comprised of Japanese teenagers. They recklessly plunge into a battlefield, where the survival rate is extremely low, at about 5% only. They fight for their freedom and for a home to which they can return.
Characters
Akito Hyuuga has short dark blue hair except for a longer area of hair tied in a thin braid down his back. He has dark blue eyes, and is shown in promotional art wielding a Wakizashi with a white hilt and square guard. The other known main character thus far is a girl named Leila Malcal, who has very long, ivory colored hair and light blue eyes.
Gallery
Other Characters
Below are other characters that are believed to be part of the main cast.
Ryo Sayama
Main article: Ryo Sayama Ryo Sayama is the leader of a terrorist group that opposes the Mafia.
Yukiya Naruse
Main article: Yukiya Naruse Yukiya Naruse is a boy who belongs to Ryo's group.
Ayano Kosaka
Main article: Ayano Kosaka Ayano Kosaka is a girl who is also in Ryo's group.
Claus Warwick
Main article: Claus Warwick Claus Warwick is Leila Malcal's lieutenant.
Sophie Randall
Main article: Sophie Randall Sophie Randall, a civilian brain science expert.
Joe Wise
Main article: Joe Wise Joe Wise is an assistant researcher of Sophie Randall.
Anna Clément
Main article: Anna Clément Anna Clément is a genius scientist and the developer of the "Alexander."
Shin Hyūga Shaing
Main article: Shin Hyuga Shaing Shin Hyūga Shaing is a Euro knight that works for the Britannian Military. He is also revealed to be Akito's biological older brother. 
Jean Rowe
Main article: Jean Rowe Jean Rowe is a Britannian knight who works for Shin Hyūga Shaing.
Oscar Hamel
Main article: Oscar Hamel Oscar Hamel is the vice captain of the Guard Troops.
Gene Smilas
Main article: Gene Smilas Gene Smilas is a general of the Europia United.
Augusta Henry Highland
Main article: Augusta Henry Highland Augusta Henry Highland is the Britannian Archduke of Verance.
Michele Manfredi
Main article: Michele Manfredi Michele Manfredi is the Grand Master of the Knights of St. Michael.
Andrea Farnese
Main article: Andrea Farnese Andrea Farnese is the Grand Master of the Knights of St. Raphael.
Daniel Malcal
Main article: Daniel Malcal Daniel Malcal is Leila's stepbrother
Stéphane Malcal
Main article: Stéphane Malcal  Stéphane Malcal is Brother of Daniel and Johann Malcal, and stepbrother of Leila.
Bradow Von Breisgau
Main article: Bradow Von Breisgau Bradow Von Breisgau is Leila's father.
Claudia Breisgau
Main article: Claudia Breisgau Claudia Breisgau is Leila's mother.
Knightmare Frame
The Alexander, a new Knightmare Frame, has the concept art of an unusual-looking Knightmare Frame, whose appearance suggests Sixth-Generation or later. The Knightmare Frame is piloted by Akito Hyuga and is a special operation unit that was originally developed in the E.U. by Anna. Akira Yasuda has returned to design the mechanical Knightmare units.
Other Knightmare Frames
Below are other Knightmare Frames that are confirmed to make an appearance in the OVA.
Alexander Type-02
Main article: Alexander Type-02
The Alexander Type-02, a variation of the Alexander, is a mass-produced Knightmare Frame used in the Special Forces Unit "W-0."
Sutherland
Main article: Sutherland (Akito the Exiled)
The Sutherland is a fifth generation Knightmare Frame, like the one from the original series, that was developed from the Glasgow with improved mobility.
Glasgow
Main article: Glasgow (Akito the Exiled)
The Glasgow is a combat type fourth generation Knightmare Frame, just like the Glasgow from the original series.
Gloucester
Main article: Gloucester (Akito the Exiled)
The Gloucester is a fifth-generation Knightmare Frame that was developed from the Sutherland.
Panzer-Hummel
Main article: Panzer-Hummel (Akito the Exiled)
The Panzer-Hummel is a mass-produced Knightmare Frame used by the Europia United military.
Gardmare
Main article: Gardmare
The Gardmare is a Knightmare Frame produced by the Europia United.
Vercingetorix
Main article: Vercingetorix
The Vercingetorixis a Knightmare Frame used by the Knights of St. Michael.
Gracchus
Main article: Gracchus
The Gracchus is a Knightmare Frame used by the Knights of St. Michael.
Staff
Original Creator: Sunrise, Ichirō Ōkouchi, Goro Taniguchi.
Director: Kazuki Akane.
Screenplay: Kazuki Akane, Miya Asakawa.
Series Composition Cooperation: Shigeru Morita.
Original Character Design: CLAMP.
Character Design: Takahiro Kimura.
Chief Animation Director: Shuichi Shimamura.
Knightmare Draft Design: Akira Yasuda.
Mechanical Design: Kenji Teraoka, Takumi Sakura, Takashi Miyamoto, Astray's.
3DCG Animation Director: Eiji Inomoto.
3DCG: Orange.
Color Design: Kumiko Nakayama.
Art Director: Takeshi Satou.
Art Set: Kazushige Kanehira.
Sound Director: Jin Aketagawa.
Music: Ichiko Hashimoto.
Theme Song: "More Than Words" (Episodes 1-3), "Arco" (Episodes 4-5). Compositions by Yoko Kanno, lyrics by Yuho Iwasato, songs by Maaya Sakamoto.
Voice Actors/Actresses
Miyu Irino: Akito Hyuga
Ryoka Yuzuki: Akito Hyuga (Child)
Maaya Sakamoto: Leila Malcal
Sumire Morohoshi: Leila Malcal (Child)
Satoshi Hino: Ryou Sayama
Yoshitsugu Matsuoka: Yukiya Naruse
Yoko Hikasa: Ayano Kosaka
Keiji Fujiwara: Claus Warwick
Yuko Kaida: Sophie Randle
Shinji Kawada:: Joe Wise
Ai Kayano: Anna Clément
Masaya Matsukaze: Shin Hyūga Shaing
Junko Minagawa:: Shin Hyūga Shaing (Young)
Unshō Ishizuka: Gene Smilas
Showtaro Morikubo: Oscar Hammel
Mikako Komatsu: Kate Novak
Asami Seto: Ferilli Baltrow
Nao Tōyama: Chloe Winkel
Saori Hayami: Hilda Fagan
Natsumi Takamori: Sarah Danes
Mariya Ise: Olivia Reuel
Kenta Miyake: Michele Manfredi
Takehito Koyasu: Andrea Farnese
Jun Fukuyama: Julius Kingsley
Takahiro Sakurai: Suzaku Kururugi
Takahiro Mizushima: Geass Cult Assassin
Kaori Ishihara: Alice Shaing
Mamiko Noto: Maria Shaing
Takuma Terashima: Ashley Ashra
Yukana: C.C
Haruka Kudō: The Dimensional Supervisor
Fumihiko Tachiki: Michael Augustus
Genki Muro: Alan Necker
Kousuke Toriumi: Pierre Anou
Hikaru Miyata: Raymond du Saint-Gilles
Kaito Ishikawa: Jan Manes
Shin'ichiro Miki: Bradow von Breisgau
Naomi Shindoh: Claudia Breisgau
Release Dates
According to composer Ichiko Hashimoto, the theatrical screening events were going to take place every three months beginning Summer 2012 and preceding each BD/DVD release. The format consists of four OVA chapters with a running time of about 50 minutes per episode.[1][2] Hashimoto had also originally estimated that the official soundtrack would be released in Fall 2012.[3] However, these dates were postponed a few times due to production delays.
On April 27, 2012, it was announced that the first episode of the OVA would premiere in Japan on August 4, 2012.[4][5] The special preview screening for the first episode took place at Ikebukuro Cinema Sunshine and Shinjuku Wald 9 on July 16, 2012.[6][7]
Sakamoto Maaya, the singer of the ending theme song "More than Words," released the single for the song on July 25, 2012.[8][9]
The Akito the Exiled official website announced the second episode would be released in Spring 2013.[10] However, in January 2013 it was announced that the second episode's release date would be pushed back to Summer 2013.[11] On June 21, 2013, the official theatrical release for the second OVA episode was announced as September 14, 2013.[12]
The Blu-ray and DVD for the first OVA episode were released on January 29, 2013, coming in both standard and limited editions; the latter contains an additional 24-page booklet, a special slip cover featuring Akito and Leila back to back, as well as 15 postcards featuring images of various characters taken from the ending sequence of the OVA.
For the second OVA episode, the Blu-ray and DVD will be released on 25 December and the PSN said that the RAW version were released on 19 October.
The Akito the Exiled Official website announced the third and fourth episode would be released in 2 May and 4 July 2015. The title for both episode is Kagayaku Mono Ten Yori Otsu (The Brightness Falls) and Nikushimi no Kioku Kara (From the Memories of Hatred). The first screening of the 3rd episode will be on May 2 of 2015.
The Blu-ray DVD for third OVA episode, will be released on 26 June 2015.
The Akito The Exiled Official Website announced the Fifth Episode would be released in this Autumn 2015.
However, the release date of this episode has been pushed back to 6 February 2016.
Blu-ray DVD for the fifth, the final episode of Akito The Exiled OVA episode, released on 22 April 2016.
Trailer
BIGLOBE's Anime One portal site began streaming a 53-second promotional video for the Code Geass: Akito the Exiled anime project on Monday. The website is also streaming the project's previous promotional video that debuted in January. The spinoff anime's first installment will open in theaters in Japan on August 4.[13]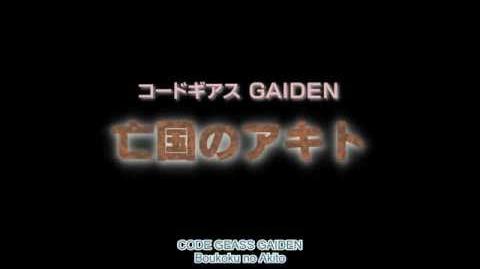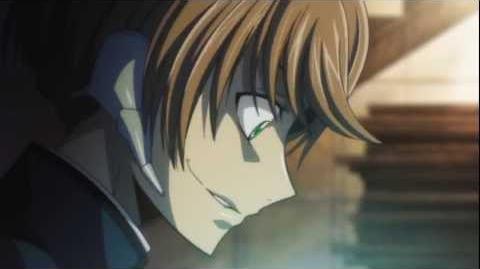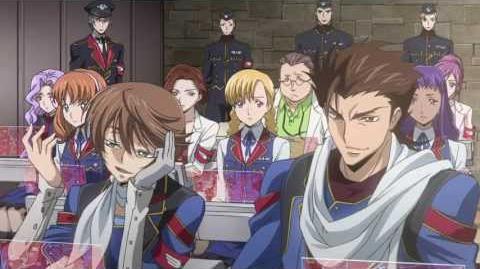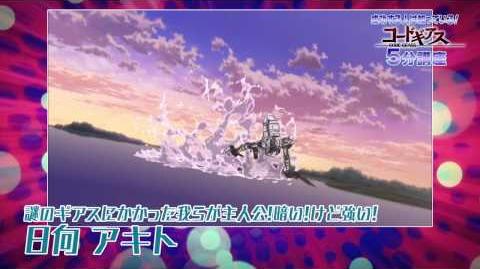 Soundtrack / Code Geass: Akito the Exiled O.S.T
Tracklist:
| | |
| --- | --- |
| 01 – Unspoken World | 4:19 |
| 02 – Mythical Heritage | 4:08 |
| 03 – Cavalry Spirit | 3:34 |
| 04 – Speculations | 3:18 |
| 05 – Euro Britannia | 4:36 |
| 06 – No Choice but to Fight | 3:17 |
| 07 – Another Story | 4:35 |
| 08 – What She Can't Forget | 3:25 |
| 09 – Commanding Eyes | 3:50 |
| 10 – Let me introduce myself | 3:53 |
| 11 – A Man Called the Devil | 4:44 |
| 12 – It's Purified | 2:46 |
| 13 – Lost Mind | 3:38 |
| 14 – Knightmare on the Highway | 1:36 |
| 15 – Impermanence We feel | 2:29 |
| 16 – Pale Flame | 2:56 |
| 17 – Emits No Light | 3:35 |
| 18 – Superior Knights | 3:37 |
| 19 – More Than Words (モアザンワーズ) | 5:05 |
| | 69:21 |

Music: Ichiko Hashimoto (#1-18), Yoko Kanno (菅野よう子) (#19) Lyrics: Yuho Iwasato (岩里祐穂) (#19)
Piano: Ichiko Hashimoto Keyboards: Ichiko Hashimoto Electric Guitar: Atsuo Fujimoto (藤本敦夫) Acoustic Guitar: Atsuo Fujimoto Electric Bass: Atsuo Fujimoto Percussion: Atsuo Fujimoto Alto Sax: Atsuo Fujimoto Drums: Takefumi Kobayashi (小林武文), Atsuo Fujimoto Strings: Masatsugu Shinozaki Strings (篠崎正嗣ストリングス) Classic Percussion: Midori Takada (高田みどり) Harp: Tomoyuki Asakawa (朝川朋之) Flute: Hideyo Takakuwa (高桑英世), Mio Noguchi (野口みお), Akemi Ohta (太田朱美) Alto Flute: Hideyo Takakuwa Piccolo: Hideyo Takakuwa, Mio Noguchi Oboe: Satoshi Shoji (庄司知史) Clarinet: Kimio Yamane (山根公男) Bass Clarinet: Kimio Yamane Bassoon: Takaaki Tsuboi (坪井隆明) Horn: Otohiko Fujita (藤田乙比古), Takanori Takahashi (高橋臣宜), Yoshiyuki Uema (上間善之), Junko Kitayama (北山順子) Trumpet: Koji Nishimura (西村浩二), Masahiko Sugasaka (菅坂雅彦), Hitoshi Yokoyama (横山均), Shinpei Ruike (類家心平) Trombone: Osamu Matsumoto (松本治), Azusa Tojo (東條あづさ) Bass Trombone: Junko Yamashiro (山城純子) Tuba: Kiyoshi Sato (佐藤潔) Chorus: Tokyo Philharmonic Chorus (東京混声合唱団) Latin Percussion: Michiaki Tanaka (田中倫明) Accordion: Hirofumi Mizuno (水野弘文) Vocal: Maaya Sakamoto (坂本真綾) (#19) Keyboards: Yoko Kanno (#19) Drums: Yasuo Sano (佐野康夫) (#19) Guitar: Susumu Nishikawa (西川進) (#19) Programming: Keishi Urata, Shunsuke Sakamoto (#19) Strings: Masahiko Todo Strings (藤堂昌彦ストリングス) (#19) Backing Vocal: Maaya Sakamoto (#19)
Musician Coordination: Noriko Sekiya (Face Music) Producer: Yoshimoto Ishikawa (FlyingDog), Masao Fukuda (FlyingDog), Manabu Kuroda (Sunrise Music Publishing) Recording & Mixing Engineer: Jiro Takita (#1-5, #9, #11, #15-18), Yoshiaki Kondo (#6-7, #12-14), Masashi Yabuhara (#19) Computer Manipulator & Recording Engineer: Takeshi Yamanaka (#4, #13, #16, #17) Assistant Engineer: Toshiyuki Kawahito (Victor Studio) (#1-18), Sousuke Tsujinaka (#19), Kohei Nakaya (#19), Toshiyuki Kawahito (#19) Recording Studio: Victor Studio, GOK SOUND, Wonder Leaf, MIT Studio (#19), Victor Studio (#19) Mastering Engineer: Hiroshi Kawasaki (FLAIR)
Gallery
==
References
Community content is available under
CC-BY-SA
unless otherwise noted.