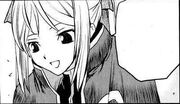 Alice (アリス, Arisu) is a tomboyish girl who is Nunnally's best friend and classmate in the spin-off series Nightmare of Nunnally. She is very caring and will protect Nunnally if she is in trouble. In reality, she is secretly an agent of the Irregulars assigned to the surveillance of Milly Ashford under the cover identity of a middle school student. Nunnally reminds Alice of her paraplegic little sister whom she couldn't save during a fire. Her relationship with Nunnally can be compared to that of Lelouch and Suzaku in the anime. After the final battle with the Eden Vital she cuts her hair short and have lost her Geass. She is last seen helping at Ashford Academy after it has been made into a refugee camp, alongside former Irregulars.
Abilities
Alice's normal physical abilities have been augmented with cells originating from C.C., giving her a Geass ability called "The Speed," which allows her to hyper-accelerate all objects within a given radius by manipulating gravitational pull. Designated by her unit to pilot a Knightmare Frame customized to exploit this ability, Alice serves as a highly effective point man on the field of battle. When her ability is active, a Geass sigil appears on her forehead. Alice's blood contains a chemical suppressant that minimizes the activity of C.C.'s biological matter, which has a tendency to strain and overtax the human body. A neutralizer for the suppressant may be administered to temporarily boost the effect of "The Speed" in battle, enabling movement of sufficiently high speed that it resembles teleportation. Her skill with the Geass is so great that even Lelouch and C.C. are impressed by it. She is also very athletic and skilled in martial arts.
Knightmares
Alice pilots a standard Irregulars Knightmare Frame for most of the series. When she makes her Geass contact with Magical Device Nemo, she pilots a modified version of the Mark Nemo called the Code Geass against Cardinal Rolo vi Britannia. It is quickly destroyed though, only to reveal a new and more powerful Knightmare underneath.
Trivias
It is revealed in Chapter 16 that her three size is as follow;
Breast: 78
Waist: 61
Hips: 76